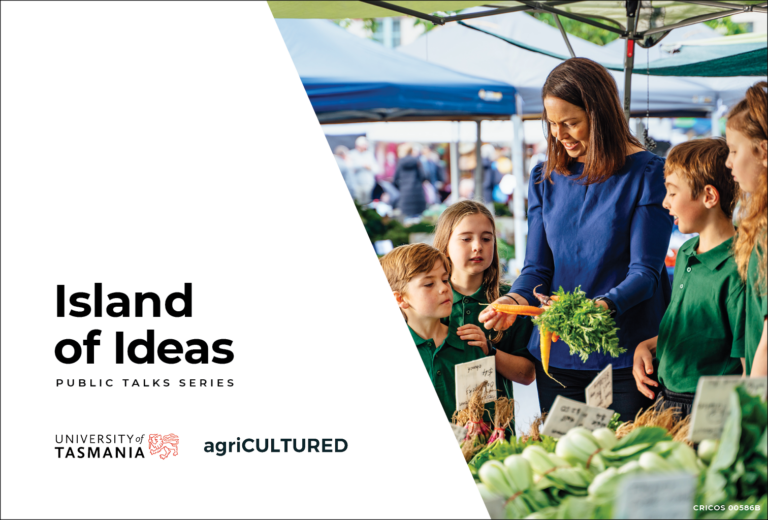 Presented in partnership with the University of Tasmania's Island of Ideas public talks series.
Enjoy a taste of complimentary Tasmanian food and wine, and think about our food future with a panel of innovators.
With the world population estimated to reach 10 billion by 2050, there is an urgent need to address the growing demand in food production. But how do we feed a growing population while maintaining or improving Tasmania's land and water quality for future generations? How do we create food systems that mitigate climate-related threats such as fire, flood and drought?
Join the experts to discover how leaders in the Tasmanian food industry are innovating to shape a future where we care for our land and waterways and build a resilient food system.
Date:
Thursday, 3rd August
Time:
5.30 for 6pm start, complimentary refreshments served from 5.30pm
6.00pm – 7.30pm forum
Tickets:
Tickets are free, register through Eventbrite.
Location:
Rivers Edge Building, University of Tasmania Inveresk Campus
Speakers:
Theresa Chapman
Sam Sawyer
Rob Shellie
Robert Arvier
Additional Information:
There will be a short cocktail event from 5.30 – 6.00pm, where attendees are invited to enjoy complimentary Tasmanian wine and canapes. The talk will commence at 6pm and be broadcast live online and in-person.
The event will consist of a 5-minute introduction, 4×10-15 minute presentations, followed by an audience Q&A session. The forum is scheduled to be one hour and fifteen minutes long.