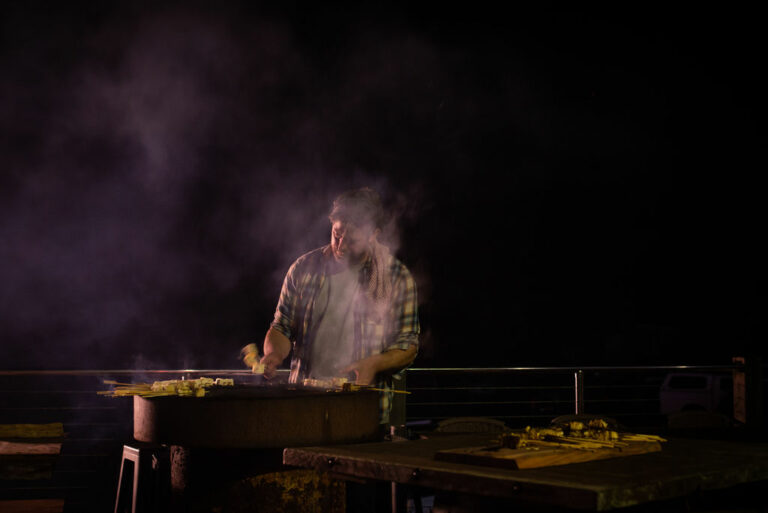 Embrace the crisp winter air, ignite your palate, and join us for an unforgettable night at Fire + Ferment. Let's celebrate the power of food to bring us together and the joy of shared experiences.
Join us at Timbre for a night of sizzling flavours and fascinating fermentation at our Fire + Ferment evening. Together with FermenTas, we've curated an evening of conversations and immersive culinary experiences on Saturday, 5th August.
We invite you to share in an indulgent long table banquet. Matt Adams of Timbre has crafted a culinary masterpiece, interweaving fire-cooked delights and fermented goods. Let us warm your heart, as we do your taste buds, against the crisp winter nights. Start your journey with a heartening cup of mulled cider by the fireside before moving inside for a feast featuring Matt's signature miso dishes and local produce matched with fine fermented beverages – wine and beer, that is!
In the spirit of gastronomic camaraderie, join in on our panel conversation. We'll discuss the challenges to the future of food, sustainability and the opportunity to become part of the Tasmanian food journey. What's more? The live charity auction is back, supporting the good folks at Rural Alive & Well!
And for the brave and hearty? End the night on a high note, roasting marshmallows by the fire as stars twinkle overhead.
Dates:
Saturday 5th August
Location:
Timbre
Velo Wines, 755 W Tamar Hwy, Legana